Even in high school orientation, one of the things the speakers always stressed was to get involved. Getting involved in a group or as a leader can help you become a leader in the workforce some day. If you're on an E-Board of a student organization, have an on-campus job, or even just a member of an organization, you may have seen the similarities between the group culture and the culture of an office. You and your peers have all been working, problem solving, planning, and learning together. Through working and problem solving with your peers to plan an event, you've been strengthening the skills that employers look for without even knowing! According to an article in Campus Activities Programming, here are the top qualities that employers look for:
Ability to work in a team structure
Ability to make decisions and solve problems
Ability to plan, organize, and prioritize work
Ability to verbally communicate with persons inside and outside the organization
Ability to obtain and process information
Ability to analyze quantitative data
Proficiency with software systems
Ability to create and/or edit written reports
Ability to sell or influence others
If any of those characteristics sound like things you're strong in, you're probably involved in student activities. If you've ever had to find a new DJ for a dance last minute, you've acquired the ability to make decisions and solve problems. If you came up with  a budget for the school year, you've acquired the ability to organize, plan, and prioritize work. If you've ever sat through a meeting, you've acquired the ability to obtain and process information.
As a student currently involved in student activities and looking for a job in a very competitive field after graduation, I've come to take all of these tips to heart. There's a bold connection between the characteristics needed in the job force today, and the characteristics gained through student involvement. It's not hard to miss the similarities! Every time you show up to an event three hours early to set up, and leave two hours late to break down, those are hours spent building skills you'll use in your future job. I know how competitive the market is, and I feel relieved knowing that my involvement in PRSSA, Cross Country, The Office Of Student Involvement And Activities, and WMWM Salem will help me check off those characteristics above and call them my own. Your resume can't show your character. However, through being involved on campus you not only gain experience but you also gain character. Employers look for results – you can show them posters you've designed, turnout of events, tickets sold, and new organization members numbers. Those numbers are cold, hard proof that you've gained awesome skills through student involvement.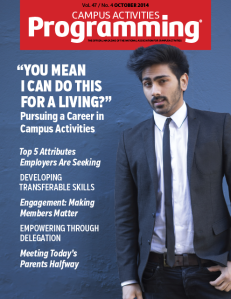 Here are some tips to get ahead in the job search I've learned:
Get Involved! It's self explanatory, take a chance!
Be Organized Keep all of your posters, numbers of attendees of events, articles published of the events, and how many members you recruited.
Share Your Results Post it everywhere – LinkedIn, eportfolios, Twitter, Facebook, Instagram, your website, Pinterest, and your resume!